Helping You Sell Your Business
Get Expert Support From
Our Business Brokers
Making the decision to sell is deeply personal, and it's not always easy. We understand that your business is your life's work. We are here to help you reap the rewards of years of dedication, hard work, and passion. We will manage the process of selling your business from start to finish, 100% confidentially.
Let's be candid—selling a business can be a confusing, time-consuming task as well as an emotional roller coaster. We help you every step of the way, reducing your stress and anxiety and most importantly, allowing you to continue successfully operating your business.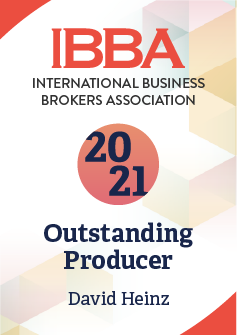 The International Business Brokers Association (IBBA)
Heinz Business Group, Inc is a member of the International Business Brokers Association (IBBA). IBBA is the world's largest professional community of Business Intermediary specialists. Heinz Business Group was awarded an Outstanding Producer Award for 2021 from IBBA. As licensed realtors and members of the Northern Illinois Commercial Association of Realtors (NICAR), we can also assist in selling your business' real estate.
We work with prospective buyers from individuals looking to leave the corporate world to investors and private equity groups. We have an active database of over 3,200 qualified and vetted buyers.
We charge a success fee only. There are no upfront fees. We work with businesses with annual revenues between $300 k and $10 million in a wide variety of industries.
Contact us today at (312) 953-2873 or complete the contact form for a free initial, confidential consultation.